To configure your IFB return audio, hit the Settings button next to IFB Return Audio on the Quicklink Control Panel.
Any device that can be recognised by a Windows machine can be used for IFB return audio. Physically on the Quicklink TX hardware, you can use SDI embedded audio, use the onboard 3.5mm jack or USB audio device (i.e Focusrite). Dante, NDI and Livewire+ AES67 can also be used for IFB.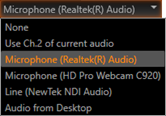 Use Ch.2 of current audio - will use the right channel of the selected audio input device for IFB. When using this IFB audio setup an IFB Ducking option will become available. When this is enabled, Ch.1 (program audio) will temporarily duck while Ch.2 (IFB) will stay present.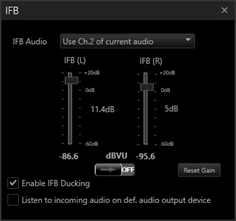 With the sliders you can adjust the gain independently on both the left and right audio channels.
Selecting Listen to incoming audio on def. audio output device enables the operator to monitor the incoming audio on the unit's default output device.
When the IFB Return audio device has been selected, click the IFB Return Audio button on the Quicklink TX Control Panel to return IFB to your caller.