Cre8 allows you to produce professional virtual and hybrid live events. Quicklink's Cre8 is a powerful, yet easy-to-use platform for creating professional, on-brand productions.
Cre8 has been designed with an easy-to-use, intuitive interface, with many similarities to a tradition video mixer. This handy labelled image and subsequent key will briefly describe the core interface of the Quicklink Switcher: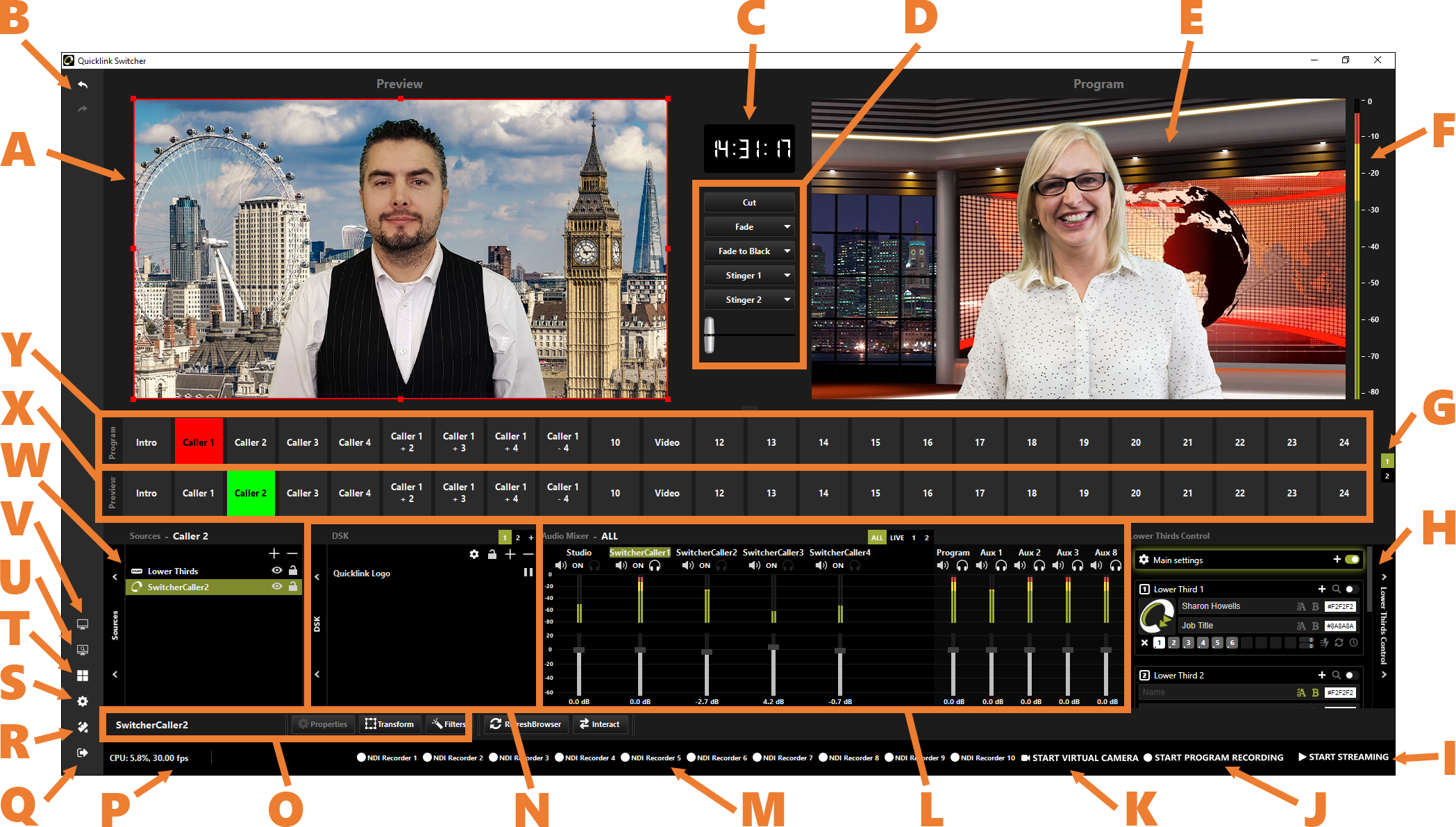 Key for the Cre8
A – Preview: current scene in preview.
B – Undo/redo: undo or redo changes within the Quicklink Switcher.
C – Clock: system clock.
D – Transitioning: cut, fade, stringer between preview and program. Read more »
E – Program: also known as output. The current scene in program.
F – Program audio: monitor program audio levels.
G – Scene toggle: toggle between scenes 1-24 and 25-48.
H – Lower Thirds: edit, create and control Lower Thirds. Read more »
I – Streaming: start/stop streaming. Read more »
J – Program recording: start/stop program record. Read more »
K – Virtual camera: start/stop virtual camera.
L – Audio Mixer: view, monitor, and manage all audio devices, program audio and enabled aux devices. Read more »
M – NDI Recorders: assign, start and stop recording using the NDI Recorders.
N – DSK: add images, video and other elements that overlay across all switched scenes and transitions. Read more »
O – Sources toolbar: properties, filters, transform and other options for the selected source.
P – CPU stats: monitor CPU usage and FPS.
Q – Save and Exit: save and exit the Quicklink Switcher.
R – Projects: access, create, edit and duplicate projects. Read more »
S – Settings: access settings for the Quicklink Switcher.
T – Multiview projector: pop-out window of the Multiview.
U – Preview projector: pop-out window of the Preview.
V – Program projector: pop-out window of the Program.
W – Sources: all sources that appear in the scene in Preview. Read more »
X – Preview scenes: display of all scenes and indicator of scene in Preview.
Y – Program scenes: display of all scenes and indicator of scene in program.