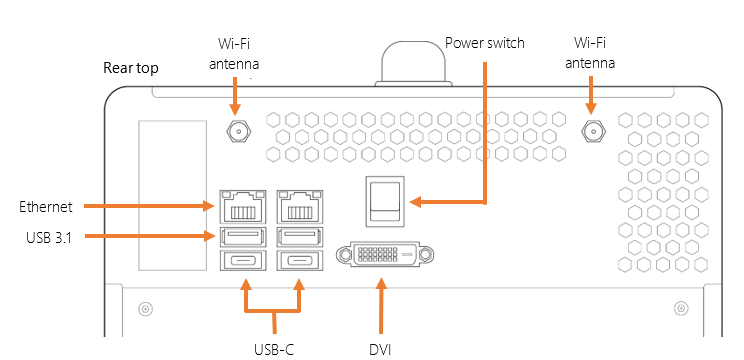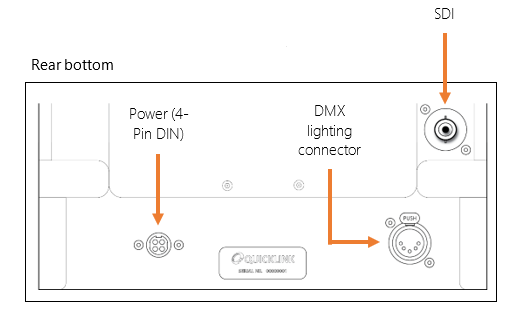 The ST500 can be mounted on a tripod or used on a desktop. Ensure that your sign in credentials are to hand. These will be provided by the Administrator.
To set up your ST500, plug the power cable provided into the 4-Pin DIN) power connector, then plug your Ethernet cable into either of the Ethernet ports. The inbuilt Wi-Fi or a USB dongle can also be used for internet connectivity. If you're planning on using Wi-Fi , you'll need to make sure the Wi-Fi antennae are connected to the two Wi-Fi antenna points.
Power on the unit by pressing the power switch.
Moving to the front of the ST500, plug your microphone into the Mic 1 port.

Ensure that 48v phantom power is turned on, if not, please press to turn on if required.

Talk into the microphone, ensuring there is a green light flashing when you speak. If this is not flashing, please increase the microphone level until the light flashes green. If the light is flashing red, please decrease the microphone level until the light flashes green.

Plug your earpiece into the headphone port.

Ensure the headphone volume level is set to roughly 50%. This can be adjusted when in call if needed.

Audio device hardware features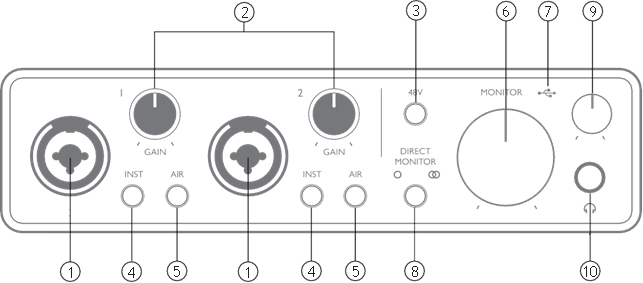 Front panel
The Front Panel includes the input connectors for Mic, Line and Instrument signals, as well as the input gain and monitoring controls.
Inputs 1 & 2 – "Combo" type input sockets - connect microphones, instruments (e.g., guitar), or line level signals here. Combo sockets accept both XLR and ¼" (6.35 mm) jacks. Microphones will normally be connected using XLR plugs: instruments and line level signals should be connected via ¼" (6.35 mm) jack plugs of either TR or TRS type. The preamp gain is appropriate for microphones when an XLR plug is inserted, and for higher level signals when a jack plug is inserted. Do not connect anything other than a microphone - e.g., the output of a sound module or FX unit - via an XLR plug, as the signal level will overload the preamp, resulting in distortion; also, if phantom power is enabled, the equipment may be damaged.
GAIN 1 and GAIN 2 – adjust the preamp gain for signals on inputs 1 and 2 respectively. The gain controls have concentric tri-colour LED 'rings' to confirm signal level: green indicates an input level of at least -24 dBFS (i.e., 'signal present'), the ring then turns amber at -6 dBFS to indicate that the signal is close to clipping, and finally to red at 0 dBFS (digital clipping).
48V – phantom power switch for mic inputs - enables 48 V phantom power at XLR contacts of both Combo connectors.
INST – Line/Instrument level switches for each input which alter gain and input impedance to suit either instrument or line level signals. 'INST' illuminates red when Instrument mode is selected. Note that INST may also be selected from Focusrite Control.
AIR – two switches enabling AIR mode for each input. AIR modifies the frequency response of the input stage to model the classic, transformer-based Focusrite ISA microphone preamps. 'AIR' illuminates yellow when the mode is selected. Note that AIR may also be selected from Focusrite Control.
MONITOR (Only used with ST150) – main monitor output level control - sets the output level at the main (rear panel) outputs LEFT and RIGHT.
USB LED – illuminates when the unit receives USB bus power and is confirmed by the computer as connected and operating correctly.
DIRECT MONITOR – this switch determines how input sources are to be monitored and steps between three Direct Monitoring modes: OFF, MONO and STEREO. When set to OFF, monitoring of input sources is via the DAW; in MONO or STEREO, monitoring is taken directly from the preamp inputs and is therefore free of any possible latency effect. The symbols or illuminate green to indicate selection of mono and stereo modes respectively.
Headphone level – adjusts the output level at the front panel stereo headphone output.
Headphone socket – ¼" TRS output jack. If your headphones have a ¼" TRS jack plug, connect them directly; if they have a 3.5 mm TRS "mini jack", use a TRS ¼"-to-3.5 mm jack adaptor. Note that headphones fitted with 4-pole TRRS plugs will not operate correctly.
Back Panel (Only used with ST150)
11. K (Kensington security lock) – secure your Scarlett 2i2 to a suitable structure if desired.
12.

USB 2.0 port – Type C connector; connect to your computer with cable supplied.
13. LINE OUTPUTS: LEFT and RIGHT – 2 x ¼" (6.35 mm) TRS jack sockets; +10 dBu output level (variable), electronically balanced. Either ¼" TRS (balanced connection) or TS (unbalanced connection) jack plugs can be used.