Guests can be created for ad hoc remote contributions within the Quicklink Manager. Creating a guest invite will send an instant temporary account link via SMS, email, WhatsApp or by generating a link for sharing through any messaging medium.
How to invite a guest
To invite a guest, within the Quicklink Manager, select the arrow next to your account name to expand the menu, and select Invite Guest.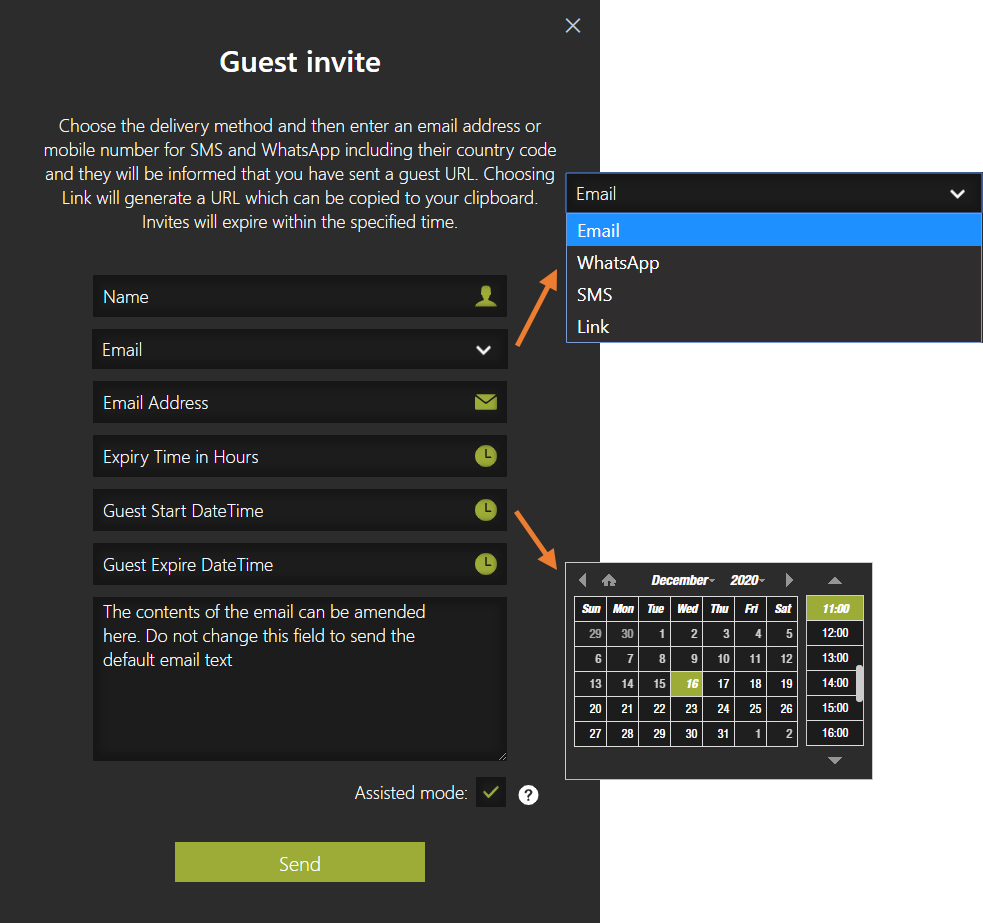 Enter a Name for your guest, it is recommended that this name is friendly as this will be now the guest appears in your Quicklink Manager interface.
Next select the delivery method for your invite. The different delivery methods are as follows:
Email: sends a URL via an email to an email address entered.
WhatsApp: sends a URL as a message within the WhatsApp application to the mobile number entered.
SMS: sends a URL within an SMS message to the mobile number entered.
Link: generate a URL that can be easily copied and sent via any other communication methods.
The next option is to enter a duration (in hours) or start and end date for your guest invite. There are two methods of achieving this:
Setting an expiry time in hours: set in hours to a maximum of 1000 hours. This automatically generates the start and expiry date/times.
Start/expiry date: this method allows you to manually select a start and expiry date/time. This automatically generates the number of hours between the two dates. When selecting a start date and time for a future time/date, the guest invite will be sent out as soon as the guest invite is created but will not be active until the entered date/time.
When sending an invite via email, an additional feature allowing you to amend the contents of the guest email being sent. This is commonly used to add comments, or give direction to a guest.
The final option to to enable/disable the Assisted Mode feature. Assisted Mode is a step-by-step workflow that ensures you get the most out of your guest contributions. Through a series of instruction steps, your guest contributor is fully prepared, set-up and tested to go into a live environment. As part of these steps, your guest contributor is guided through enabling access to their camera/microphone, configuring their camera, microphone and speaker, and troubleshooting if necessary. The guest contributor also runs through a quick test call to check their network status and that they have the recommended upload speed required.
When you have completed all above steps, click Send to create and send your guest invite.