Before streaming your productions, you will need to configure your streaming settings.
To configure your stream settings, open the settings by selecting the

icon, then select the Output tab.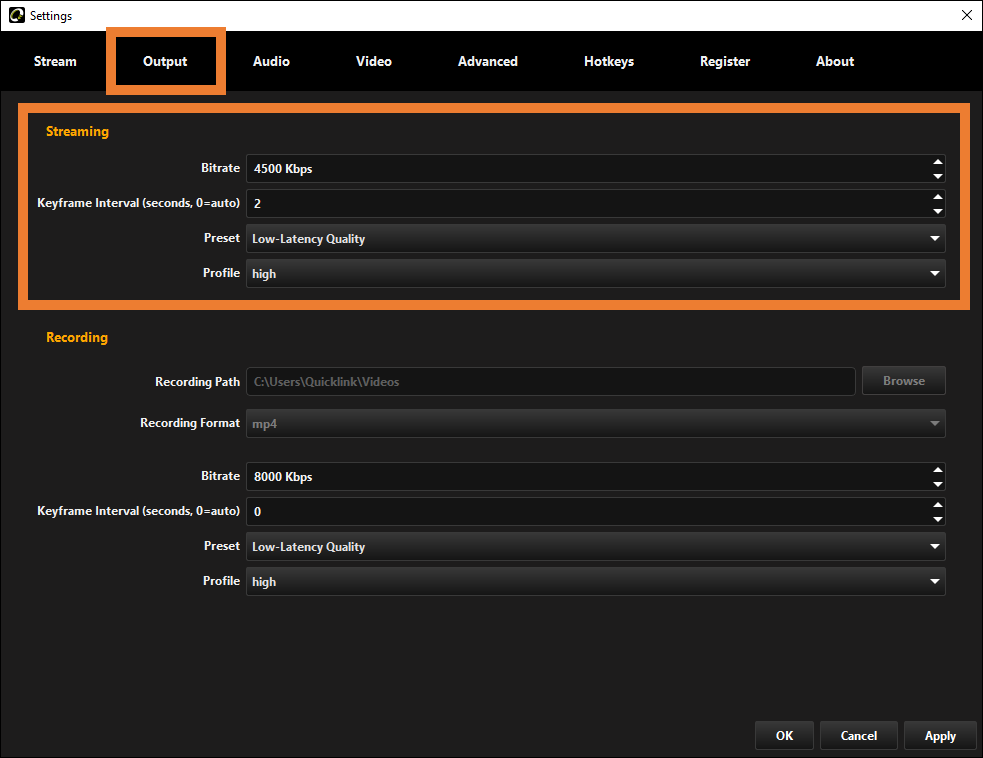 Firstly set your streaming bitrate and profile. By default the bitrate is set to 2500 Kbps. For streaming in full HD quality, it is recommended that the Bitrate is set between 1900 - 4500 Kbps, and that the Profile is set to high. A guideline on the quality you're looking to achieve, and the recommended settings are as follows:
| | | | | |
| --- | --- | --- | --- | --- |
| | Low Definition | Standard Definition | High Definition | Full High Definition |
| Bitrate | 350 | 800 - 1200 | 1200 - 1900 | 1900 - 4500 |
| Profile | main | high | high | high |
When configuring the above settings, it is important to factor the quality of your network to avoid buffering issues when streaming. As a rule of thumb, your network speed should be at least double your configured bitrate to produce a high-quality stream and avoid buffering.
For example, if your network upload speed is 4000 Mbps, then your bitrate should not be higher than 2000 Mbps. Your network speed can be tested by visiting an online speed test such as Ookla.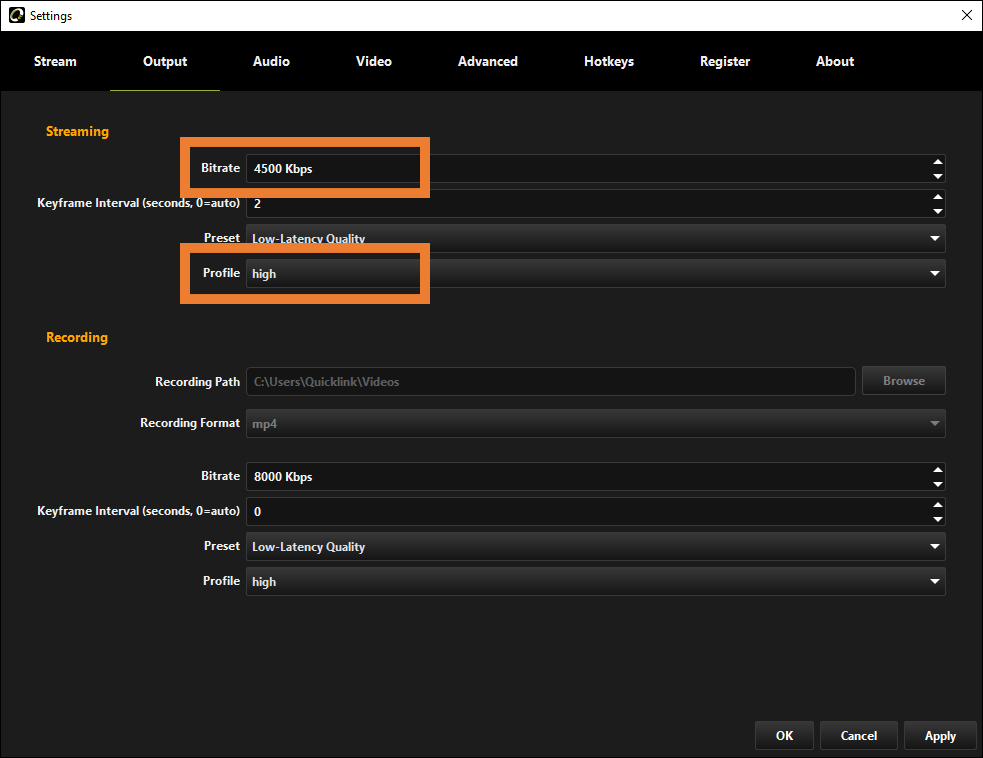 Next you will need to set your Keyframe Interval, this is the number of seconds a full video frame will be rendered. It is important to note that keyframes are resource heavy. As a result, for streaming it is recommended that the Keyframe Interval is set to 2 seconds, which provides a good balance between quality and performance. This means that a full video frame will be rendered every 2 seconds.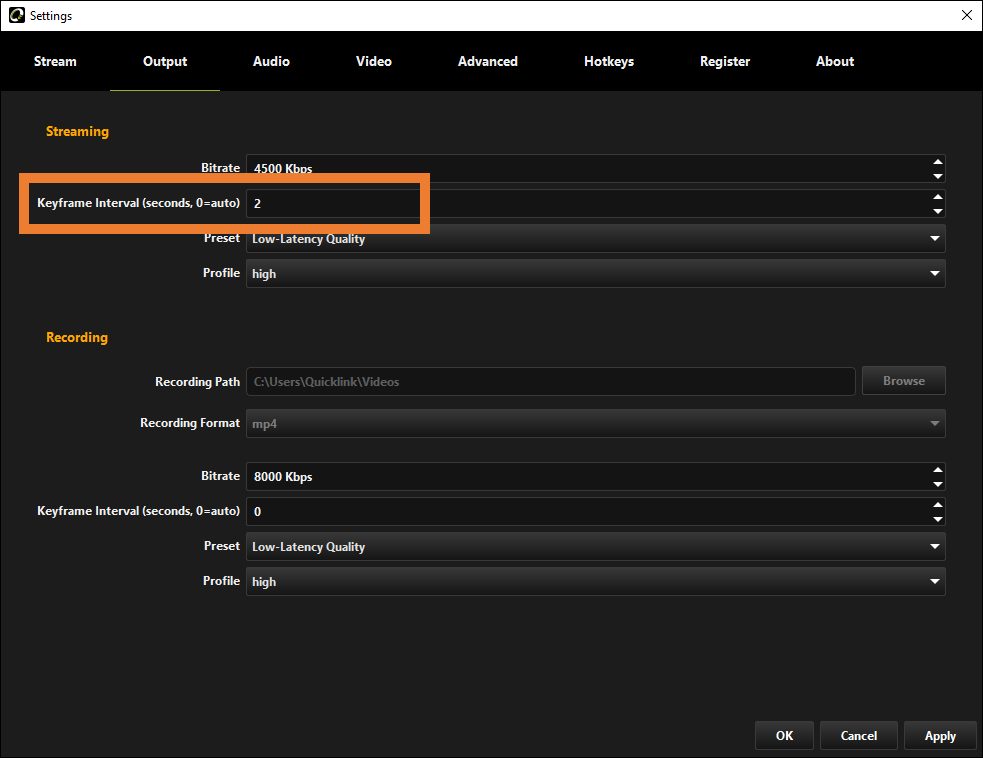 Lastly you should now set your Preset. Selecting the Low-Latency Quality option will allow you to stream with very low latency, this option is recommended when audience interactivity is important. Selecting the Max Quality option will add delay but improve the quality of your stream, this option is recommended when audience interactivity is not important.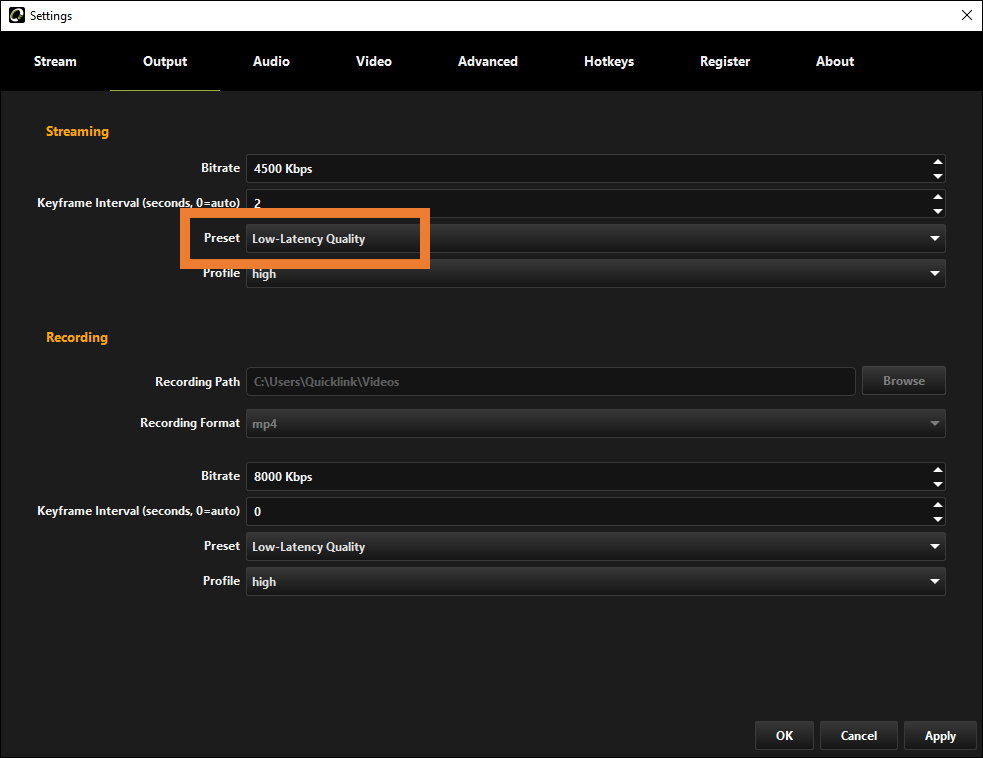 When finished, click Apply to save your stream settings.